In the middle of the night, imagine disaster strikes. Say your house catches on fire (been there, done that). Who do you call?
Research indicates we have fewer close confidants than decades before.
What changed?
Instead of lamenting the changing dynamics of our day, let's think about how to resist the tendencies of the world around us.
In Vital Friends, Tom Rath from Gallup lays out specific roles and types of friends we all need to have. The book lays out 8 types of friends, each helping us fulfill different roles as champions, advisors, supporters, and encouragers.
In different seasons of my life, I have held different combinations of friends. Some friends came as a result of work environments or geographic proximity, others came from educational circles or boards on which we served together.
As jobs change, we make moves, seasons of life move us around, the people around us change. And for me, I am focused on mission and vision, so developing these strong friendships did not sit as the highest priority. I had a small, close circle, but as the seasons of life changed, the circle grew smaller and smaller.
Whether you pursue specifically 8 friends from the Gallup work in Vital Friends, or simply try to build a personal "advisory group," the issue of vital importance is to have people you trust, who can point you in the right direction, and who can help you see the world.
Multi-Generational Circle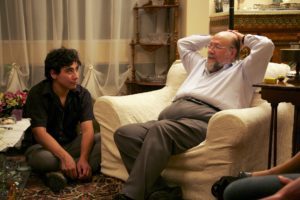 One of my favorite people in my life right now is a few decades older than me. We served together as a dynamic chair/vice-chair team on two boards related to our industry — he was the chair on one to my vice-chair, I was the chair on the other to his vice-chair.
Even after we both moved out of the industry, changed jobs, and shifted roles, this was one key relationship I wanted to maintain.
A few months back, this is the person I asked, "If you could go back to the beginning of your career, what would you do differently?" To which he replied, "I would learn about leading myself and leading people earlier. I waited too long."
When we talk about the multi-generational workforce, we highlight the vital importance of generational translation.
Building bridges to other generations in your inner circle helps you personify the worldview and perspectives of your co-workers, clients, and competitors through the lens of your inner circle. Your inner circle can help you translate and understand how to view the world
Discovering Your Voice
Steve Cockram and Jeremie Kubicek created the 5 Voices, a system of voice and perspective simplified out of the research of Myers-Briggs and Jungian typology. One of the key discoveries of utilizing the 5 Voices system is to help individuals build the personal Advisory Group.
Leaning on the 5 Voices, they recommend building your team to bring each voice to your mind. We naturally only bring our top voice, so it's important to "hear" the other voices.* (you can discover your voice with the FREE online assessment!)
There are so many varied perspectives on the world, we need to understand the different perspectives people bring to our conversations, our boardrooms, and our daily decision making. Take these simple paradoxes:
Future………………………..Today
People……………………..Task/Vision/Goal
Organized………………..Flexible
Extrovert………………..Introvert

How do you respond to someone on the other side of the spectrum from you? Each perspective means we are bringing new eyes, a new voice, and also a vital perspective to the table.
Our inner circles help us safeguard ourselves from our own internal bias. As New Generation Leaders, we are building bridges of collaboration and excellence in every area of our life, work, and community.
The stronger our inner circle is, the better able we are to prepare for and respond to the challenges in our ever-changing global landscape.
This post is part of our New Generation Leader series. Discover how you can develop New Generation Leaders!